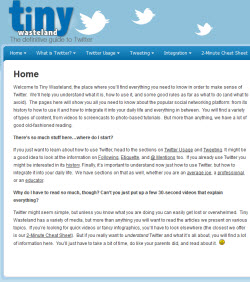 Assignment: Create "an educational web-based e-book that will present learners with hyperlinked content on a topic of your choice as well as assessment and transfer of knowledge type activities on this content."
Reflection: I used this opportunity to create a web site that is designed to teach people how to use Twitter, as well as give information about the history of Twitter and examples of how to integrate the social networking service into their daily lives.  I tried to cover all the basic information people would need to know before diving headfirst into Twitter, and put articles on the site that would explain the different ways Twitter can be used.  It's hard to know if the project was ultimately a success because I can't see the site from the perspective of a first-time Twitter user, but I have had several individuals view the site and comment on its usefulness.
Standards: TL-I. Educational technology leaders demonstrate an advanced understanding of technology operations and concepts. TL-IV. Assessment and Evaluation. Educational technology leaders communicate research on the use of technology to implement effective assessment and evaluation strategies.
Tiny Wasteland – The Definitive Twitter Tutorial