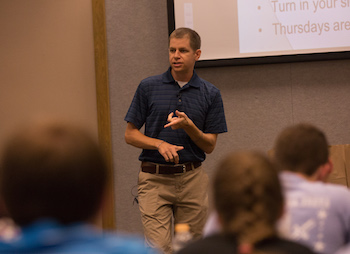 When friends and family ask me what I do for a living, my response is simple: "I help faculty be better teachers." At Oklahoma State University's Institute for Teaching and Learning Excellence my team and I work together to create workshops, classes, and hands-on one-on-one sessions where we help faculty members learn new techniques and methods to engage their students. Technology plays a central role in what we do but we take care to design our programs around the needs of instructors and students first, and find ways of implementing technology when it can be effectively used to reach specific goals. We ask faculty to consider these three questions when designing their curricula:
What do I want my students to learn?
What can I do to help them learn it?
How will I know if they have learned it?
If the answers to these questions involves things like mobile phone apps, innovative presentation software, or third-party devices like iClickers, then we will work together to design solutions that utilize these types of technologies. However, often the key to more engaging lessons starts from simple practices like knowing your students, knowing your goals for the class, and having a clear plan to reach those goals. We encourage instructors to utilize collaborative learning techniques, realtime student response systems, and even memorizing their students' names as the foundation on which they can build a more effective classroom. I also teach a Project Management class for OSU's Spears School of Business in order to continually improve my own teaching and also put into place some of the solutions and practices we recommend to other faculty members. I use the flipped method for teaching this class, meaning that students watch video lectures outside of our classroom to learn the material and then come to class to dive deeper into the concepts and explore them using in-class work and case study analyses. This approach is unconventional but my students have enjoyed it quite a bit, and my overall instructor rating across all the semesters I have taught it is a 4.86 out of 5 while students have rated my course an average of 3.72 out of 4.
Though my own career as a classroom instructor began many years ago under very different circumstances, I enjoy the challenges and opportunities afforded by ITLE and OSU to continue developing not only myself into a better teacher but the other faculty members on campus as well.
Following my graduation from the University of Nebraska-Lincoln in June 2004 where I earned a Bachelor of Science in Language Arts Education, I took a teaching position at Meadow Creek Christian School in Andover, Minnesota. During my first three years of teaching I instructed a variety of courses including classes in computer-based multimedia and web design. I also served on the school's Technology Advisory Committee during my third year at which point we recommended to the school board that the school purchase a portable computer lab consisting of 30 MacBook computers and a special cart to transport them around the school. I was also asked to serve as the K-12 computer instructor, so my fourth year of teaching I was in charge of creating and administering curriculum to students at all grade levels. It was then that I learned firsthand just how quickly young people can absorb and understand technology, and I realized many times that my instruction was like lighting a firecracker–I would show students basic concepts, and they would explode with creativity, taking my instruction and building on it in ways I would have never imagined.
In the summer of 2009, when my wife and I moved to Stillwater, Oklahoma, I took a job at the Center for Executive and Professional Development at Oklahoma State University's Spears School of Business, and continue in that position to this day. My primary responsibilities were with the distance learning program where I managed online video content for over 100 graduate and undergraduate courses. I was instrumental in upgrading our in-house recording studio from a desk with a webcam to a full HD broadcast quality studio. I also spent a great deal of time using software such as Camtasia, Premiere, After Effects, Dreamweaver, Fireworks, Photoshop, and various other multimedia editing programs in order to produce high-quality online content for the distance learning instructors. A good portion of my duties involved customer service aspects, as I often respond to support requests from students as well as spend time training faculty in how to use audio and video equipment in their classrooms. In addition to my daily responsibilities with the distance learning program I also managed audio and video for the conferences we hosted throughout the year such as the Tulsa Business Forums and Executive Management Briefings.
A good teacher never stops learning, and my role as a Teaching Support Specialist allows me to combine all my favorite aspects of teaching and help others do the same.