This six-week course is designed to give professors the tools and experience they need to be more effective online instructors. I use an evidence-based approach to explore topics such as student engagement, technology tools, and assessment strategies with the goal of helping participants understand the unique challenges and opportunities afforded by online education.
Much of the class involves the use of an online discussion board wherein participants discuss prompts generated by their fellow classmates. I maintain an active presence in the discussion board throughout the class, as a way of not only helping keep my students engaged but demonstrating discussion board best practices as well. By the end of the six weeks, participants often report in their self-reflections that the class had a transformative effect not only on how they view online education, but their own face-to-face instruction as well.
While many colleges and universities offer workshops and seminars designed to help faculty understand more about online education, what separates the Preparing Online Instructors course from other professional development opportunities is the way in which the information is presented in an immersive six-week format. Many college instructors today did not go to school during a time where online learning was commonplace, and as such they do not have firsthand experience of what it's like to be an online student. By putting faculty members on the other side of the educational equation and allowing them to learn about online instruction while being online students, they get to see firsthand what works and what does not work.
As a way of modeling the types of instructional practices that create engaging online environments, I make it a point to record two video updates for my students every week. The first on Monday, and the next on either Thursday or Friday. This sends my students a signal that their instructor is actively involved in the course and cares about the assignments, discussions, and deliverables being turned in. Every week the POI Participants have an assignment, and the instructions are given in video as well as written form. This allows students to engage with the material in a manner best suited to them: some prefer written instructions, some prefer to watch a video, and some enjoy both.
Discussions are also a major component of the Preparing Online Instructors course. These are, as I tell my students, the beating heart of our class. Each week we have prompts to discuss, and students serve as both facilitators and participants throughout the six weeks. I encourage students to use text or video to share their thoughts, and I also remain actively engaged with the discussions to help keep things on track and offer another voice in the mix as we are exploring online education.
The above video is a video response that I contributed to our discussion board during a recent Preparing Online Instructors course. As an instructor it's important to model the type of behavior I expect from my students, which is why I make it a point to respond to weekly prompts right along with my students.
Sample Materials
This document is not your traditional syllabus. I created it to be easy to read, visually engaging, and clearly organized so students can get the information they need right where they expect it. This syllabus not only explains course policies and procedures, but includes a Wellness Statement on the first page which sends a message to my students that I care about them and their performance in class.
The fourth week of Preparing Online Instructors involves building a learning activity for an online course. After spending the first three weeks of class exploring student engagement, the Canvas Learning Management System, and various technology tools students then build on that knowledge to construct an activity for online students to complete.
After years of experience in online teaching I settled on five key components that lead to success in online courses. These hold true regardless of subject matter, course size, or level of instructor experience. This document explains the five components in detail, using research as well as a bit of narrative. In addition to the written paper I have also created a one-page Infographic that gives a brief overview of each of the five key components. You can see a small thumbnail version below, or download the full-size PDF using the link above.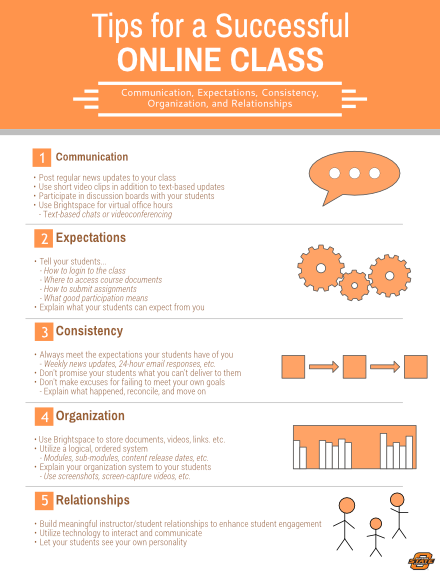 Student Response
Over the years I have had very positive responses from faculty members who have taken the Preparing Online Instructors course. Many departments at Oklahoma State University now list it as a requirement before their instructors can teach online, and I continue to update and refresh the course with new materials, innovative technologies, and unique methods of collaborating to solve complicated problems related to online learning.
Simon has certainly provided the expertise and tools to make me a more marketable and effective instructor. Thanks!

POI Participant
This course has been extremely beneficial. It has taught me how to think out of the box in ways to engage students throughout the online course experience. It has made me look at online education in a different light, versus just reading and quizzes.

POI Participant
The instructor provided a great example of how an instructor should engage in an online setting.

POI Participant
It is my first time teaching,and this has been themost helfpul aspect in terms of me setting up my course. I am positive the information learned in this course will benefit my students as well.

POI Participant